Furnance Leads
Manfacturing of furnance leads for Ladel furnance, Arc furnance, etc… which can be air cooled or water cooled,
Wire size – Upto 5600 mm sq.
Current carrying capacities – Upto 20,000 Amps.
---
Air Cooled & Water Cooled Type Furnace Leads

(For Indian And Imported Furnaces)
TCS's Furnace Leads are of custom built designs with proven qualities. The wide experience of TCS House has incorporated
Lower Resistance
Higher Conductivity
Greater Stability
Lower Maintenance Cost
Lower Inventory Burden
Continuous Development With
Integrated Q/C And On-Line Inspection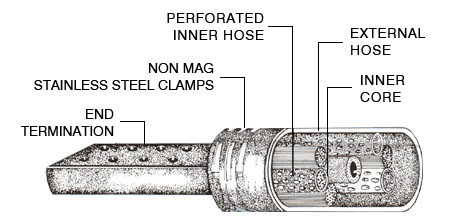 TCS's Water Cooled Furnace Leads for UHP Electric Arc Furnace are of updated design to last longer with unique features.
TCS's Air Cooled and Water Cooled Furnace Leads are of latest designs and in the process of its manufacturing, adopts high quality to yield desired results in terms of longer life, lower maintenance cost, higher flexibility.
The terminals being made out of high conductivity copper with electro-tinned finish, maintaining proper contact surface, render lower resistance, higher conductivity and higher stability. The consistent quality assurance of TCS products thus contribute to their indispensible features in the usage of the product in the field of Electric Arc, Induction, Smelting, ESR Furnaces.
The growing demand of TCS's Air Cooled and Water Cooled flexible Furnace Leads, amongst steel melting, and Electric Arc and Induction Furnace manufacturers prove the determined efforts of its manufacturers to be perfect in its state of art.
The reduced terminal weights as a result of adoption of modern design over the conventional ones, render easy handling and installation.
The present range Air Cooled & Water Cooled Furnace Leads consists of few hundred Amps to 25000 Amps for a single lead, made out of Tinned Copper flexible wire rope, having braided asbestos covering for Air Cooled type and bare copper flexible wire rope with high pressure hose having asbestos braiding for water cooling type, duly crimped at both ends with appropriate sized terminals ready for connecting to the transformer bus bars and the electrode mast.
---